"RING OF FIRE EXPEDITIONS" presents:
AURORA VIEWING IN NORTHERN ALASKA
NOVEMBER 28-DECEMBER 2, 2013 
BASIC INFORMATION
An aurora is one of the more spectacular, unpredictable and brief atmospheric experiences that can normally be experienced just with the naked eye. There is no hazard to watching aurora as there is potentially with viewing a solar eclipse. On this tour you have the chance to see unusual daylight atmospheric phenomena in addition to the chance of spotting auroras at night. We have reserved four night viewing sessions for you during this tour.
 For the best viewing of the Northern Lights come to the sunniest spot in Alaska! Little to no light pollution makes for great photography opportunities and optimal viewing.
The northern lights can normally be seen from late August through mid-April. All of the winter activities have begun the 1st of December through the beginning of April.   Please keep in mind weather is the primary factor in viewing the aurora. If it is overcast the aurora cannot be seen.
BASIC TOUR ITINERARY
Some modifications may occur due to routing and schedule changes in the region prior to the time of the tour. Prices are those in effect as of the date above and may change due to currency fluctuations, fuel surcharges caused by escalating oil prices or increases mandated by ground operators. RING OF FIRE EXPEDITIONS does its best to keep prices in line as far in advance as possible. Trip cancellation insurance is highly recommended.
Minimum group size for the tour to proceed is 9 persons.

An example of a good aurora photo taken during a high solar activity period. Photo by Y.Takasaka in Yellowknife, Canada
Many ROFE tour members have already described aurora viewing as "one of the top goals on their travel bucket list". The solar cycle is due to peak in 2013 so we have scheduled our expeditions to coincide with this. Realize that auroras can last from a few minutes to hours and totally depend on getting clear skies to be seen. Due to ease of access from the lower 48 states, we have chosen Fairbanks, Alaska as our base destination. The tour will be led by Paul D. Maley of the NASA Johnson Space Center Astronomical Society. Weather conditions can always be a factor impacting any astronomical event including auroral viewing and so, we have allocated 4 nights to maximize our chance of success. In addition, somewhat like a tornado, you cannot effectively predict when an aurora will occur for certain far in advance or where it will be visible, but we are definitely going to be at a prime location.
To shoot the aurora you will need a digital single lens reflex camera and a reasonably wide angle lens, securely mounted on a tripod. Control your timed exposures on 'bulb' with a shutter release.
BASIC TOUR ITINERARY as of April 8, 2013
(Some modifications may occur due to routing and schedule changes in the region prior to the time of the tour.  Prices are those in effect as of the date above and may change due to currency fluctuations, fuel surcharges for ground transport caused by escalating oil prices or increases mandated by ground operators. RING OF FIRE EXPEDITIONS does its best to keep prices in line as far in advance as possible. Trip cancellation insurance is highly recommended just in case you or a companion becomes ill or is forced by circumstance to miss the tour.)
November 28 (Thursday) FAIRBANKS
Situated at the heart of the Tanana River Valley, Fairbanks is a city that combines modern amenities with a quintessentially Alaskan frontier spirit. Commonly known as the "Gateway to the Arctic," the second-largest city in Alaska has a colorful history dating back to the late 1800s and the discovery of gold in the area. Located close to the center of the state, Fairbanks has the widest temperature range of any city on Earth, with temperatures dropping below -65F (-55C) in the winters, and rising over 100F (38C) in the summers.
After your arrival you will transfer to the hotel on your own (courtesy shuttle available from the airport to the hotel). Aurora viewing attempt#1 will occur tonight.
In order to be on the bus you will need to time your arrival into Fairbanks such that you must be at the hotel prior to 10pm when the bus is scheduled to depart. Observation will take place at Chandalar Ranch, about 48 miles outside of Fairbanks.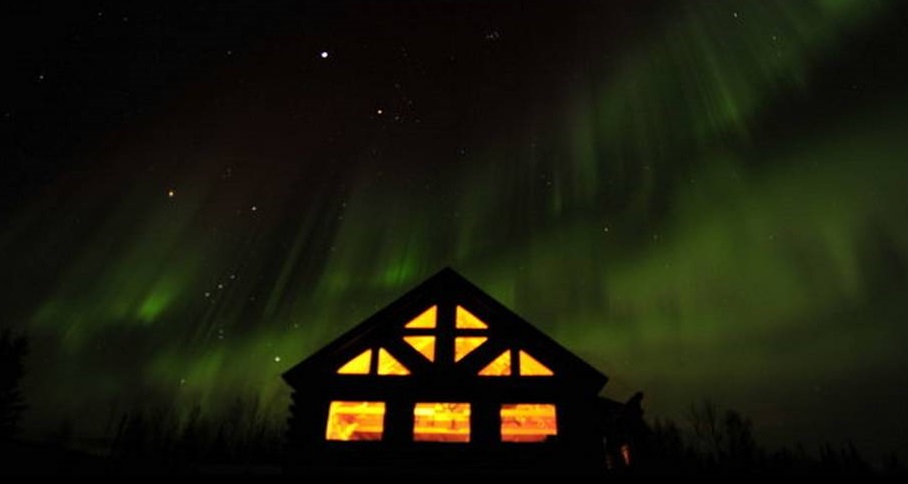 Aurora as seen behind the Chandalar Ranch main building
Overnight Fairbanks: Springhill Suites or similar.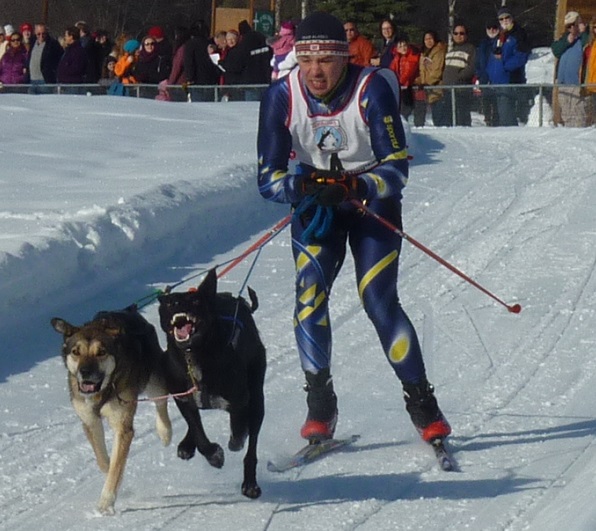 Dog racing in winter in Fairbanks
November 29 (Friday) FAIRBANKS TO TASTE OF ALASKA LODGE
After breakfast enjoy a tour of the city of Fairbanks.  This will be followed by lunch in a local restaurant and then a private transfer to the Taste of Alaska Lodge.
A Taste of Alaska Lodge is situated on 280 natural wooded acres near Fairbanks, Alaska.  The property features views of the Alaska Range Mountains, Mt. McKinley (Denali) and the Trans-Alaska Pipeline, in addition to the beautiful surrounding acreage.  The original 160 acres was homesteaded by Walter and Dorothy Eberhardt in 1947. Walter continues to farm today at age 89.  In 1992, Dave and Debbie Eberhardt bought an additional 120 acres to start A Taste of Alaska Lodge, starting with the two-bedroom Log House.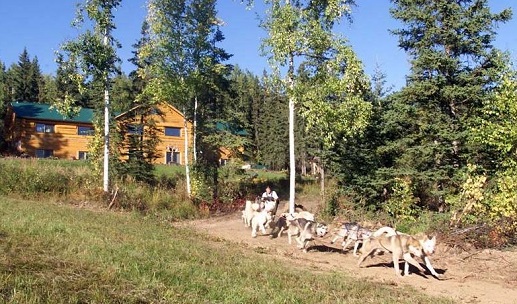 Taste of Alaska Lodge
Breakfast for all A Taste of Alaska guests is served in the Main Lodge dining room each morning at 8:00am. We offer fresh ground locally roasted coffee, juices, fruits and pastries, in addition to entrees such as biscuits, quiche, french toast, egg puffs, meats, yogurt and assorted cereals.
The Main Lodge features six private rooms and two family suites. The suites have up to four queen beds, and can be divided in to two temporary rooms with a movable wall. The six private rooms each have two queen beds and a separate private entrance.
All Main Lodge accommodations feature full private baths, spectacular southern views, and are decorated with a variety of handmade quilts, antiques and Alaskan collectibles. All rooms also include DishNetwork service, phone service and wireless internet access.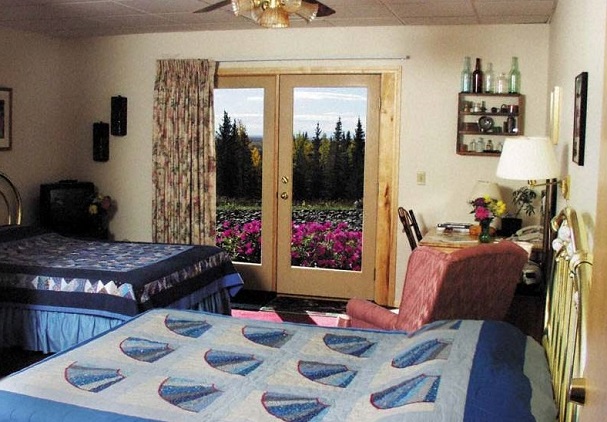 Typical lodge room. There are 6 double rooms available.
The Lodge provides excellent opportunities for wildlife viewing, whether from your room or while walking on the grounds. Winter guests can look forward to the Northern Lights, while Summer guests can enjoy the unforgettable midnight sun. No matter who you're traveling with, everyone can find an activity to enjoy at A Taste of Alaska Lodge.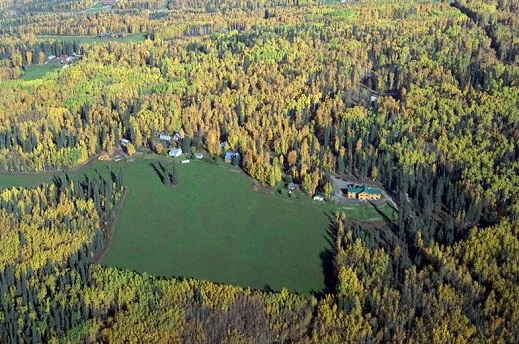 Aerial view of the Taste of Alaska property
Overnight at Taste of Alaska Lodge (B, L, D)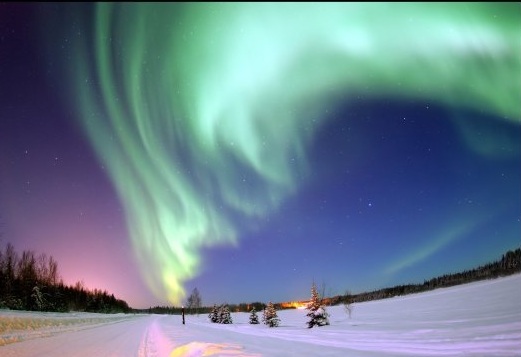 Aurora as seen along the roadway. Even in bright moonlight, depending upon the intensity of the aurora, you can take a shot like this!
A snapshot showing the auroral activity prediction for late April where the reddish color show that auroral activity is higher at latitudes north of Anchorage. This is representative of periods of high solar activity.
November 30 (Saturday) ARCTIC AURORA TOUR
Take breakfast in the morning at the Lodge.  Depart the Lodge mid morning to early afternoon for a prviate aurora viewing tour into the Arctice (approximately 16 hours).  A box lunch and box dinner will be provided.   Depart from Fairbanks and ltravel up the Dalton Highway approximately 156 miles.  Along the way, marvel at the majestic beauty of the northland's most famous waterway, the Yukon River, and learn of its storied past. View the remarkable Trans-Alaska Pipeline and visit the Arctic Circle Trading Post, situated in the rural community of Joy, Alaska.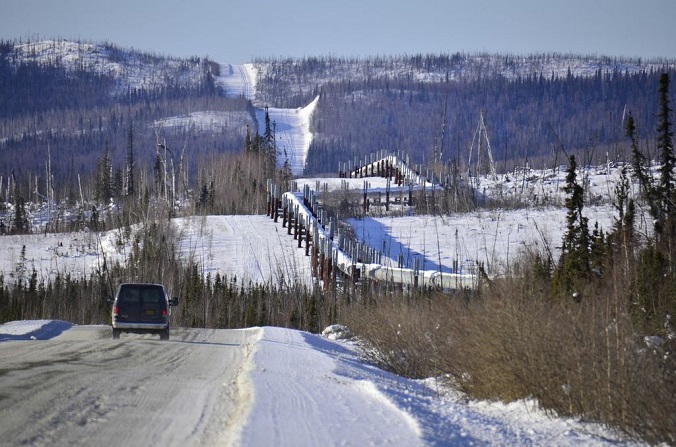 Trans-Alaska pipeline. B.Braswell photo.
You will eventually  cross the Arctic Circle.  In  ceremonious fashion, you will receive an official Arctic Circle certificate. Enjoy a walk on the arctic tundra, which will give you a sense of the vast scale of Alaska's arctic regions.   Tonight we will watch for aurora beginning at sunset at the Arctic Circle and along the dark highway to Fairbanks.  Return to Taste of Alaska Lodge around 4am. (B, L, D)
Dogs and snowmobiles–staples of Alaska transportation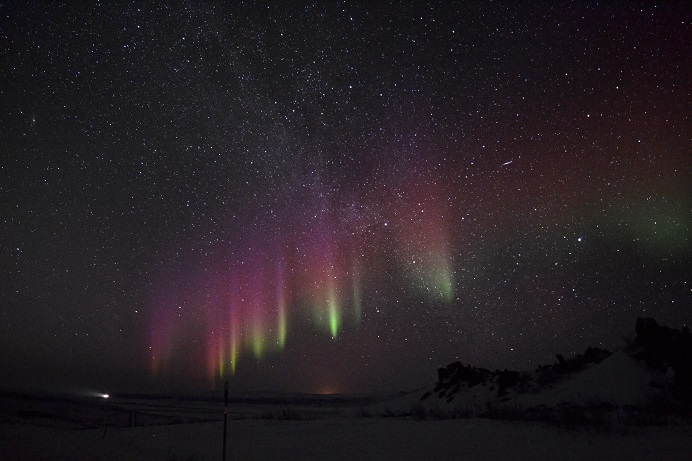 Aurora can be dramatically different in appearance during the viewing as particles from solar wind interact with the Earth's magnetic field.  They are especially dramatic when there is no moon and you are driving along the Dalton Highway.  In this case the aurora formed beams of light that were easily visible to our group in March 2013.  P. Maley photo.

December 1 (Sunday) CHENA DAY TOUR
Take breakfast at the Lodge.  Following this you will have a private van transfer up to Chena Hot Springs.  Here you will spend the day to participate in optional activities such as the Ice Museum, dog sledding, visiting the dog kennels, ice sculpting class, dog mushing school, and 4 different flightseeing tours. Enjoy lunch and dinner here. Entrance to the hot springs with a towel rental is included.  After dinner transfer to the Taste of Alaska for a final night of aurora viewing.  Following this you will return to Fairbanks around 3am.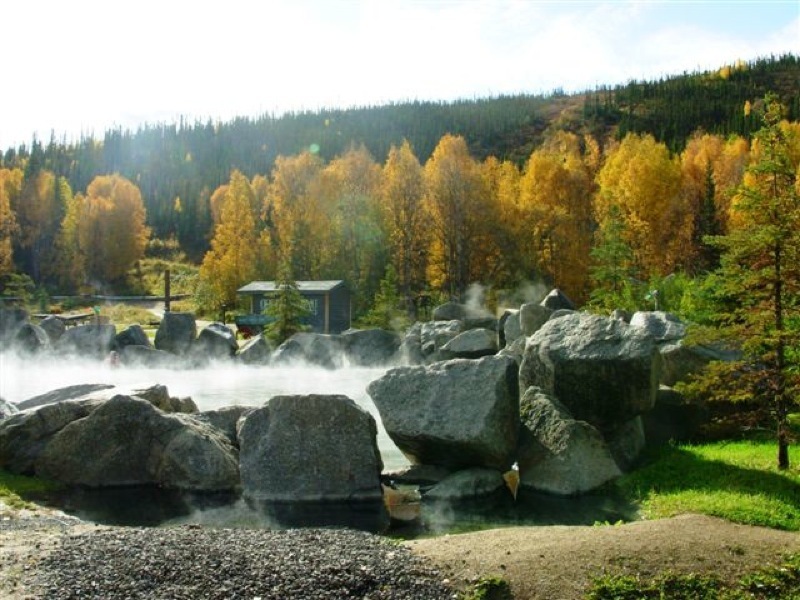 Chena hot springs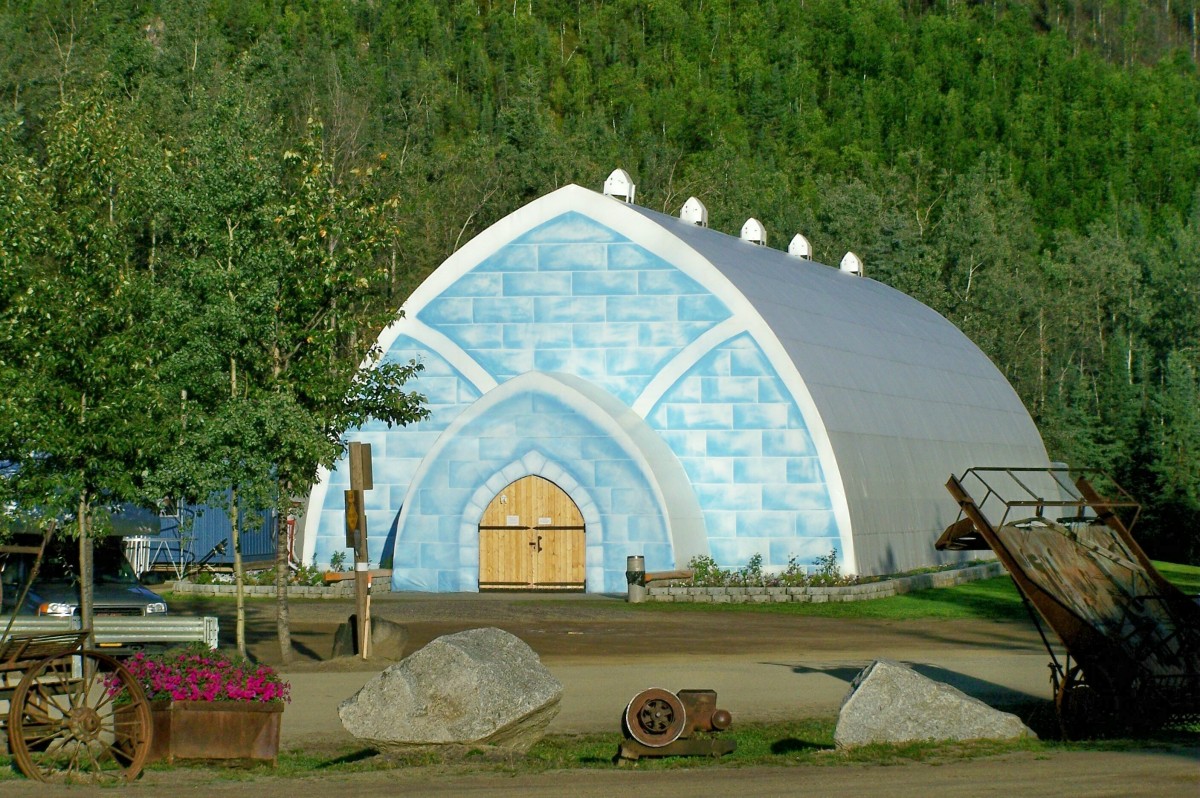 Chena Ice Museum
"Diamond Dust" or tiny ice crystals in the winter air over Fairbanks cause many curious optical phenomena in the sky. They sometimes cause a multicolored halo around the sun or moon. Within the solar halo ring, on either side of the sun, one often sees two bright spots called "sun dogs" or "mock suns". At night one frequently sees pillars of light extending vertically upward from street lights or other bright sources. These forests of glowing vertical shafts can be easily mistaken for displays of the rayed aurora.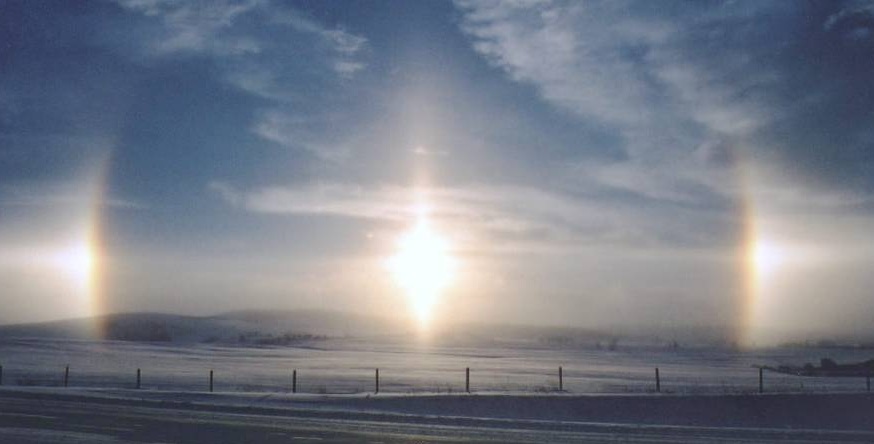 During the day, when aurora cannot be seen, we will be on the lookout for these types of atmospheric phenomena. Photo by C. Coman.
Amongst other daytime atmospheric phenomena to search for are tangent arcs, sun pillars, parhelic circles, supralateral arcs, circumscribed halos, and 22 degree radius halos.
We recommend that you dress warmly for this tour, so you may view the Northern Lights from outdoors. (B, L, D)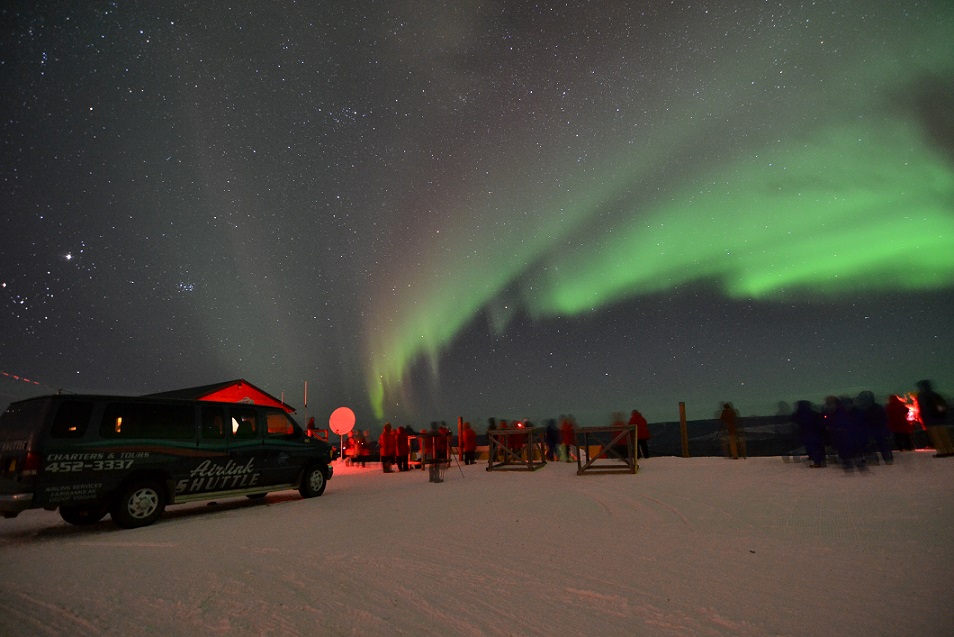 A cool aurora seen during our second aurora tour. L. Palmer photo.
Aurora photo taken in January 2012 in Norway by T.Nesthus. The wider angle lenses can capture immense displays like this one.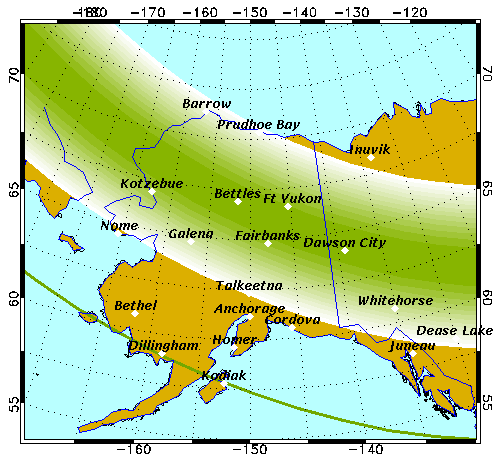 Predictions showing that usually the auroral visibility band tends to hover just north of Fairbanks.
December 2 (Monday) DEPART FAIRBANKS
After breakfast you will be transferred to the airport for your flight back home through the hotel's courtesy transport.  Your Alaskan adventure comes to an end today as you say goodbye to The Last Frontier.  We hope you have enjoyed your stay in The Great Land, and we wish you safe travels home! (B)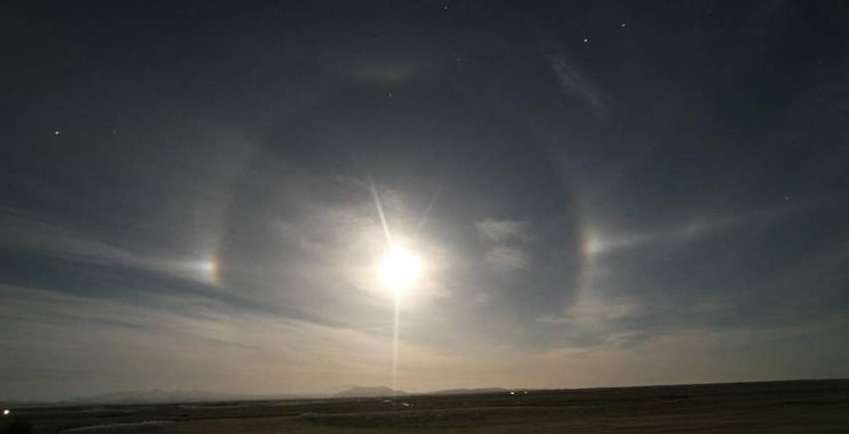 At night when the Moon is up, another phenomenon to look out for are Moon Dogs. Photo by A. Guomundsson.
Important note: We can arrange air to/from Fairbanks if you like. Contact Travel Leaders/Future Travel for this.
Cash price

$1699.

(credit card price USD$176

7.)

LAND only per person beginning in and ending in Fairbanks, Alaska USA, double occupancy. Add USD cash price

$380. ($395

.credit card price) for single supplement (if available). SORRY, NO CHILDREN UNDER 12.
BASIC TOUR PRICE INCLUDES:
Private transportation in a 15 passenger van with an English-speaking driver
4 nights' accommodations including Baggage Handling Services as listed above
1 night of aurora viewing at Chandalar Ranch
Fairbanks city tour
Private custom tour to Arctic Circle for aurora viewing
2 nights aurora viewing at Taste of Alaska Lodge
4 Breakfasts, 3 Lunch, 3 Dinners
All applicable taxes and fees
Price does not include:
Driver Gratuities
Meals, unless specified above
Excursions, unless specified above
PAYMENT SCHEDULE (per person)
BEFORE AUGUST 1, 2013…………………………….USD$525. DEPOSIT credit card price (cash price USD$500).
AUGUST 1, 2013………………………………………..BALANCE DUE.
CANCELLATION FEES (per person)
BEFORE AUGUST 1, 2013…………………………….USD$250. EXCEPT IF YOU FIND A REPLACEMENT FOR YOURSELF. THEN, NO PENALTY.
AUGUST 1, 2013 AND AFTER……………………….100% OF THE TOTAL TOUR COST
Travel Leaders/Future Travel recommends that each client purchase adequate trip cancellation insurance, medical, baggage, accident and other personal effects insurance. Trip cancellation insurance must be purchased at time of initial deposit. Clients should be aware that we cannot guarantee the weather for this astronomical event or any other. Contact Travel Leaders/Future Travel for details.
ONLINE REGISTRATION
Please complete and submit the registration form below.
Please review and print our Terms & Conditions prior to starting your registration.
Don't see a registration form? Refresh your page or use a different internet browser. Some versions may not support this form!
Credit Card Deposits
If you are paying by credit card, please submit our Credit Card Authorization Form
Tour Terms & Conditions
Please read the following tour terms and conditions prior to reserving your trip:
RESERVATIONS AND PAYMENTS
Your reservation may be confirmed ONLY with SIGNED application form AND DEPOSIT. Tour space is limited and group flight reservations are accepted subject to availability at the time both RESERVATION FORM and PAYMENT(s) are received by FUTURE TRAVEL. For information call: (281) 480-1988 or (800) 929-9004. In order for us to keep your tour costs down we cannot return phone calls outside of the Houston area. If you cannot get through, please call back.
Payment schedule is as outlined on the tour registration form.
CANCELLATION AND REFUND
The operators of hotels, airlines, and our ground logistics suppliers have strict policies which we have to follow. Cancellations must be received in writing by Future Travel. Because our tours are mostly to remote areas and are of an unusual nature, neither hotels, airlines, or ground suppliers will refund money to us for unused or canceled space. Our prices are based on group minimums and any cancellation could otherwise cause a rate increase for others.
Cancellation penalties are as outlined on the tour registration form.
TOUR PRICES
Land and air prices are subject to change without notice due to unforeseen increases in the rates for hotel and meals, government taxes, currency fluctuations, and ground services. Prices are based on two persons sharing one room. There is additional cost for a single room (single supplement) or an extra person in the room if either of these features are available.
CHANGES
There will be a change fee of $75.00 per person charged for any change in travel arrangements made after ticketing and at least 30 days prior to departure. No changes will be allowed within 14 days of the departure date. These fees are subject to change.
SHARING ROOMS
If you are traveling by yourself but wish to share a room with someone else, we will attempt to match men with male roommates and women with female roommates, along with smoking/non-smoking preferences. If we cannot find a roommate for whatever reason we will advise you and have to charge you the single supplement fee. You may wish to look for a roommate from your local astronomical society.
ACCOMMODATIONS, MEALS AND SIGHTSEEING
Accommodations, meals and sightseeing will be provided as specified in the itinerary. Substitutions, if any, shall be of similar quality as outlined in the itinerary. Sightseeing will be provided by our tour host and is subject to change due to weather conditions, accessibility, border crossing limitations, and hours of operation. Sightseeing will be by motorcoach or best available transportation.
CHILDREN
In order to provide maximum convenience for all tour participants, we normally accept children if they are the age of 12 and older, although some tours are for adults only and are specified as such. Children must be accompanied and supervised by parents or guardians and are expected to display proper decorum while the group is together, especially at the observation site and on tour buses.
MEDICAL CERTIFICATION
Tour participants must attest that the are in good general health and capable of performing normal activities on this trip. They must further attest that: they are capable of caring for themselves during the expedition and will not impede the progress of the trip or enjoyment of other tour members; they must understand that this expedition may take them far from the nearest viable medical facility and that all expedition members must be self-sufficient. With that understanding they must certify that they have not been recently treated for, nor are aware of, any physical, mental or other condition or disability that would create a hazard to themselves or other members of the trip.
AIR TRANSPORT
Tour prices are quoted based on coach (economy) fares and are subject to change without notice. If air fares are increased, any such increase will be collected from tour members. We will attempt to use the lowest available airfare at time of ticketing.
SMOKING POLICY
SMOKING IS PROHIBITED ON OUR TOUR BUSES, OBSERVATION SITE AND IN BRIEFING/LECTURE ROOMS.
TRAVEL DOCUMENTS
United States citizens are required to have a valid PASSPORT (valid at least 6 months beyond the end of the tour). Citizens of other countries must make their nationalities known immediately to Future Travel and are responsible for obtaining proper documentation to enter the U.S. and any other countries where tour options are involved.
INSURANCE
Trip cancellation, baggage, health and accident insurance is strongly recommended and on some trips, mandatory. Insurance will be made available and may be purchased through Future Travel (if the law allows). In other cases tour members living outside the USA may have to obtain insurance in their home country.
It is recommended that tour participants do not bring expensive jewelry or like possessions with them. Telescopes and observation equipment should be securely packed; insurance on expensive items is highly recommended. Future Travel or any of its representatives or contractors are not liable for loss/damage of any personal effects.
BAGGAGE HANDLING
Consult the TSA web site for restrictions on what is currently allowed to be carried onto aircraft. Also, due to constantly changing airline limitations, we advise all participants to verify baggage allowances directly with the airlines. The following guidelines may vary from trip to trip. Consult the individual tour inclusion to be sure these are in force. In general, from the USA you are allowed to check two standard sized suitcases per person, each weighing not more than 70 lbs and combined length, width, height of each adding up to less than 106 inches. But for flights in most other countries, only one checked bag weighing up to 44 lbs is permitted. Carry-on luggage must fit in the overhead compartment or under the seat. Excess baggage can be checked at the tour participant's own expense. Lost or damaged luggage while in transit is the sole responsibility of the carrier or traveler and subject to international and/or domestic governing regulations. All baggage of tour participant(s) is accepted on tour at participant(s) own risk. IF YOU ARE BRINGING A TELESCOPE OR ANY UNUSUAL EQUIPMENT, YOU MUST PROVIDE A LIST OF SUCH ITEMS TO FUTURE TRAVEL SO THAT WE CAN DETERMINE THEY ARE ALLOWABLE. WE WILL PROVIDE INSTRUCTIONS RELATED TO CUSTOMS FORMALITIES.
TRANSFERS
When transfers are included in the tour package between hotels and airports, transportation of participants and their baggage is provided only when participants travel with the rest of the group . If your schedule is different from this, private transfers are available at extra cost and must be requested in writing. Carry-on bags must be carried by tour participants and porterage is included AFTER passing through customs area upon arrival. Porterage is included for two (2) pieces of baggage only at hotels and airport unless otherwise stated in the individual itinerary inclusions. In some situations hotel porterage may not be possible. Be sure to consult the tour information to be sure.
TIPS AND TAXES
Tours include taxes for hotel accommodations and airfare. Departure taxes within foreign countries are NOT included since they vary widely. Each airport departure may require a separate departure tax which will have to be collected from each tour participant prior to boarding. Tips are NOT included for guides, tour personnel or drivers who render special services or who have done an outstanding job. This is left to each person's discretion.
CHANGES IN THE TOUR
Sometimes the airline or ground operator will be forced to change a portion of the tour dependent on equipment, weather or other factors beyond control of Future Travel. Alterations in the tour may also be necessary for other reasons. If this does occur, any additional expenses will have to be paid by tour participants and Future Travel will advise if/as soon as such expenses are anticipated.
Future Travel or its representatives cannot guarantee the observation of the advertised astronomical event(s). We make every effort to examine weather prospects prior to selecting the observation site including satellite photo studies.
WHAT IS NOT INCLUDED IN OUR TOUR
Cost of passports or visas, airport departure taxes outside the USA, excess baggage, meals and beverages not specified in the itinerary, baggage handling in the USA, tips, room service, liquor, phone calls, voluntary changes in flight(s), laundry, insurance costs, and items or services of a personal nature not specified in the tour itinerary.
CONSUMER DISCLOSURE NOTICE / DISCLAIMER
RESPONSIBILITY AND LIABILITY
Future Travel, Inc. and the Johnson Space Center Astronomical Society act only in the capacity of agent for the suppliers of the travel services named in the Itinerary or otherwise providing services or goods in connection with the Itinerary (the Suppliers), such as airlines, hotels and other lodging providers, cruise lines, camp operators, sight seeing trip operators, bus lines, car rental companies, driving services, restaurants, and providers of entertainment. We assume no responsibility for any personal injury, property damage, or other loss, accident, delay, inconvenience, or irregularity which may be occasioned either by reason (1) any act or omission of any of the Suppliers (2) any matter beyond our exclusive control including but not limited to a delay or cancellation of a flight that causes you to miss any portion of the Itinerary. We have no special knowledge regarding the financial condition of the Suppliers, unsafe conditions, health hazards, weather hazards, or climate extremes at locations to which you may travel.
For information concerning possible dangers at destinations, we recommend contacting the Travel Warnings Section of the U.S. State Department at (202) 647-5225 or www.travel.state.gov, and click on Travel Warnings.
For medical information, we recommend contacting the Centers for Disease Control at (877) FYI-TRIP or www.cdc.gov/travel. You assume full and complete responsibility for checking and verifying all passport and visa requirements of the destinations and for complying with all laws of the country in the Itinerary.
You are also responsible for respecting the authority and following the directions of the guide during the trip. We may exclude you from participating in all or any part of the trip if, in our sole discretion, your condition or behavior renders you unfit for the trip or unfit for continuation once the trip has begun. Unfitness may include, without limitation, any behavior that, regardless of its cause, is inappropriate or offensive or interferes with the delivery of our services, or may constitute a hazard or embarrassment. In such case, our liability shall be strictly limited to a refund of the recoverable cost of any unused portion of the trip. Should you decide not to participate in certain parts of the trip, no refunds will be made for those unused parts of the trip. You agree to indemnify and hold us harmless from and against any costs, damages, losses, or liabilities arising out of your actions or omissions.
The right is reserved to withdraw any tour announced by Future Travel or make substitutions and/or alterations as may be found desirable for the convenience of the parties and the proper carrying out of the tour. The tour price is per person and quoted in U.S. dollars. All rates are subject to change without prior notice due to unforeseen economic circumstances (including but not limited to airfare increases) or currency fluctuations. Any increase in cost as a result of change in either will be borne by tour participant.
Any dispute related to the trip shall be governed by Texas law without regard to conflict of laws principles. The federal or state courts in Harris County, Texas shall be the exclusive forum for any lawsuit related to the trip, and you consent to the personal jurisdiction by said courts. You agree to present any claims against us within 30 days after the trip ends and to file within one year of the incident, and you acknowledge that this expressly limits the applicable statute of limitations to one year. You agree to grant us (and third parties with whom we may engage in joint marketing) a worldwide, royalty-free, fully paid up license to use your photographic, video, or digital likeness solely for our promotional and/or commercial purposes. Facsimile transmission of any signed document shall be deemed delivery of an original. At our request, you shall promptly provide an original document as well. If there are any conflicts between these terms and conditions, the Reservation Form, and the Itinerary, these terms and conditions shall apply.