"RING OF FIRE EXPEDITIONS" presents our 42nd solar eclipse tour:
TOTAL ECLIPSE OF THE SUN OVER THE ATLANTIC OCEAN
Transatlantic Eclipse Cruise aboard the Motor Yacht Sea Dream I
OCTOBER 28 – NOVEMBER 9, 2013
BASIC INFORMATION
What we hope to see! Photo by B.Braswell The Sea Dream I Yacht
WHY GO WITH A CRUISE FOR THIS ECLIPSE?
1. GREATER AMOUNT OF  TOTALITY TIME THAN ANYWHERE ON LAND
2. HIGHER SUN ALTITUDE (RATHER THAN LOW ALTITUDE AT THE END OF THE DAY FOR MOST LAND TOURS)
3. WILL ALLOW UP TO 24 HOURS OF EARLY MANEUVERABILITY
4. NO LONG BUS RIDES OVER BUMPY ROADS
5. UNPACK JUST ONCE
6. ALMOST EVERTHING IS  INCLUDED IN THIS TOUR WITHOUT HAVING TO TIP ANYBODY
Join our team on the M/Y SeaDream I, the most amazing ship we have sailed onfor a 13 day luxury cruise into totality across the ocean. We have chartered the entire vessel for your enjoyment of the eclipse and its international ports of call. A voyage aboard one of the SeaDream Luxury Cruise Yacht is undoubtedly one of the finest travel experiences you could have. SeaDream I accommodates up to 112 guests in 56 luxury stateroom accommodations. A crew of 95 look after you, offering the highest level of service imaginable. Each stateroom is comfortably furnished with queen size bed and/or twin beds, separate sitting area with Flat Screen TV and DVD. Each stateroom features a full bathroom with Multi-Jet Shower Massage, ample wardrobe space, direct dial telephone, CD player and 24-hour room service; it really is the ultimate in luxury.
Dining aboard the SeaDream Yacht is a culinary delight. The Dining Salon can accommodate all guests in a single seating and with an ever changing menu there is something for every taste and dietary requirements. Alternatively guests may choose to have an informal buffet breakfast or lunch at the Topside Restaurant.
SPEAKERS
RING OF FIRE EXPEDITIONS will have three escorts on this cruise.  The astronomical portion of this cruise will be conducted by Paul Maley of the NASA Johnson Space Center Astronomical Society and Dr. Patricia Reiff, Professor of Astronomy at Rice University in Houston, Texas.  Our onboard naturalist will be Richard White.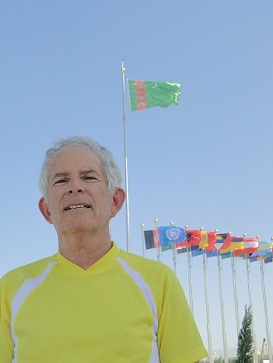 Paul  Maley will be leading his 42nd solar eclipse expedition with most expeditions being to the edge of the eclipse path to conduct solar radius video data collection and the rest to the center line.  Paul specializes in occultations of stars by minor planets in order to improve knowledge about the sizes and shapes of asteroids.  He also conducts astronomical outreach to organizations in various countries.  Additionally he is an avid earth satellite observer and has incorporated satellite viewing on all of his trips.  Paul worked in the space industry for 41 years and enjoys running in half marathons.  Paul has traveled on the Sea Dream I in December 2011 and again in December 2012 to inspect the ship and determine its suitability as an eclipse observation vessel.  He concluded agreements with the cruise company and the ship's officers to do everything possible to find a clear spot in the Atlantic in order to watch the eclipse.  He confirmed that unlike large passenger vessels, that there will be adequate space for all serious eclipse observers to set up their equipment without overcrowding on deck.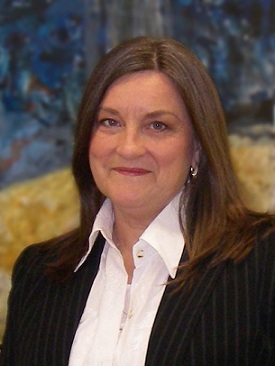 This is will be  Professor Patricia Reiff's 14th trip to the center line with only one rainout. It is also her 5th cruise to totality with prior shipboard tours in the Caribbean in 1998, Black Sea in 1999, Tahiti in 2010, and Australia in 2012.  Dr. Reiff is a Professor in the Department of Physics and Astronomy and was the Founding Director of the Rice Space Institute at Rice University, and is the present Associate Director for Public Outreach.  Her research focuses on space plasma physics, mostly in the area of magnetospheric physics: "space weather". Her research includes study of the aurora borealis, solar wind-magnetosphere coupling (including solar wind control of magnetospheric and ionospheric convection), and magnetosphere-ionosphere coupling.  As an educator, over two million people have interacted with her exhibits and planetarium shows at the Houston Museum of Natural Science and other museums, and another million with her web sites (http://www.spaceupdate.com; http://www.discoverydome.com).  There are more than 160 of her "Discovery Dome" planetariums in the field in more than 33 countries and 33 U.S. States!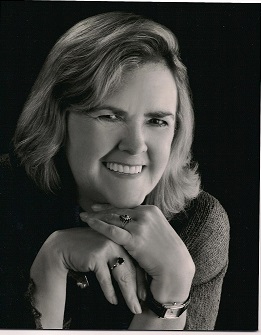 Ann Burgess, an award-winning lecturer, writer and photographer is a dynamic speaker with a passion for nature and wildlife.  She has lectured as a naturalist aboard Princess Cruises in the recent past.
Living on Vancouver Island provides her a unique opportunity to observe wildlife up close and personally, especially while trying to keep the local deer from feasting in her garden. She writes frequently for newspapers in the United States and Canada and researches and writes the Alaska section for "Independent Guide USA" for Thomas Cook Publishing, as well as editing "The Guide To Western Canada" for Globe Pequot Press.  Currently, Ann teaches at Malaspina College on Vancouver Island part time, reserving plenty of time for researching new books that highlight life on the West Coast.  Ann is a member of the Society of American Travel Writers and the Travel Journalists Guild, for whom she currently serves as Second Vice-President.
An active naturalist she is a member of the North Island Wildlife Recovery Center, Federation of Naturalists British Columbia, the Seabird Survival Program and Vanishing Wild. An enthusiastic writer she has more than fourteen books to her credit.
Ann Carroll Burgess has been visiting the Antipodes for more than two decades.  Originally drawn to New Zealand by Halley's Comet, she has returned several times to write about these intriguing countries in her capacity as a member of the Society of American Travel Writers and Travel Journalists Guild for whom she served as Second Vice-President.
For several years Ann wrote a syndicated travel column for Sun Belt Publishing in Florida, twice winning awards from the Florida Press Club. A highlight of her work was interviewing Australian film director Peter Weir.  When not at sea, Ann lives on Vancouver Island, British Columbia with her husband, Tom, where she frequently teaches at Vancouver Island University in the Elder College program.
ON THE SHIP
Watching of the eclipse will take place aboard ship**. Opportunities (weather permitting) are planned for the following astronomy-related activities:
observation of the sun during port calls or when seas are reasonably calm
observation of bright artificial earth satellite flyovers of the ship (a tradition on RING OF FIRE EXPEDITIONS)
searches to see the 'Green Flash' at sunrise and sunset
observation of the stars of the Southern sky
observation of the Southern Taurid meteor shower
observation of other astronomical objects of opportunity in the night sky during the cruise
There will also be simulated planetarium shows in the ship's lounge (update February 15, 2013) since the planned inflatable planetarium will not fit inside the  ship.
Unpack just once as you board our amazing Sea Dream Yacht Club ship and sail for 12 nights without worrying about your job or other daily stresses. IMPORTANT: No smoking is permitted in the cabins, hallways, or in any indoor public venues onboard the ship. Smoking is only permitted in a very confined OUTSIDE space and will be announced on the ship.
The yacht is going to transition from the Mediterranean Sea to the Caribbean Sea during the eclipse period and we were lucky enough to charter it during an otherwise uneventful crossing. Starting in the Canary islands at Santa Cruz de Tenerife, we will visit the exotic ports Dakhla (Western Sahara), Nouadhibou (Mauritania), then Sao Filipe (Fogo) in the Cape Verde Islands, on to intercept the solar eclipse at sea. It takes 6 days to finally end the cruise in Bridgetown (Barbados).
The Sea Dream I is an American-operated ship and is one of the best ships you could comfortably sail on. The service and dining are 5 star. It is rated the very best small ship in the 2012 Berlitz Guide. Conde Nast travel magazine readers recently ranked Sea Dream number one in the category of small ships with a higher score than any experience throughout some of the most exotic destinations in the world, including Australia, New Zealand, and the South Pacific. The Sea Dream luxury mega-yachts Sea Dream I and Sea Dream II were designed as prototypes for the ultra-luxury yachting experience. Teak decks, inviting seating and lounging areas with plenty of room to stroll or simply relax and watch the world go by with your favorite libation. With all the comforts of home and more, Sea Dream yachts reflect a passion for style, quality and casual perfection.
This ship is a quiet place to relax. It does have a well stocked library and DVD collection for free usage during the cruise as well as a few cable channels. However, there are no show productions such as you will find on large ships. We will have various talks on astronomy related topics. [NOTE: Should you be an expert on a particular topic and wish to give a talk, kindly email pdmaley@yahoo.com and let us know since there will be time for this during sea days.]  You will also be briefed before each port of call. The ship has card games and Bridge material; there is a Casino / Gaming table; also a piano bar. Normally there are morning walks around the top of the Yacht for Exercise, Yoga and Tai chi classes; the crew often does a performance for the guests during the voyage which simply shows off the great talents of the team onboard. At times the chef will do a cooking demo; there is also a crew fashion show and a crew demonstration of various things like towel folding into caricatures, blackjack lessons, wine tasting, tea forte, etc.
NOTE: PERSONS WHO MAY NOT WANT TO TAKE THE ENTIRE CRUISE MAY BE ALLOWED TO EMBARK AND/OR DISEMBARK AT PORT STOPS. HOWEVER, YOU WILL NEED TO CONTACT US WAY IN ADVANCE IN ORDER FOR US TO OBTAIN NECESSARY APPROVAL AND COORDINATE THE LOGISTICS. THE PRICE OF THE CRUISE CANNOT BE REDUCED IF YOU CHOOSE TO TAKE A SHORTER CRUISE SINCE TRAVEL LEADERS IS CHARTERING THE SHIP FOR THE ENTIRE VOYAGE.
** The plan is to intercept the eclipse at sea using weather instrumentation provided by Sea Dream I and also through a special meteorological forecast tool.  There is never a way to guarantee that skies will be clear during totality. ROFE will make the best effort possible to get clear skies during totality which is the number one goal of our cruise passengers.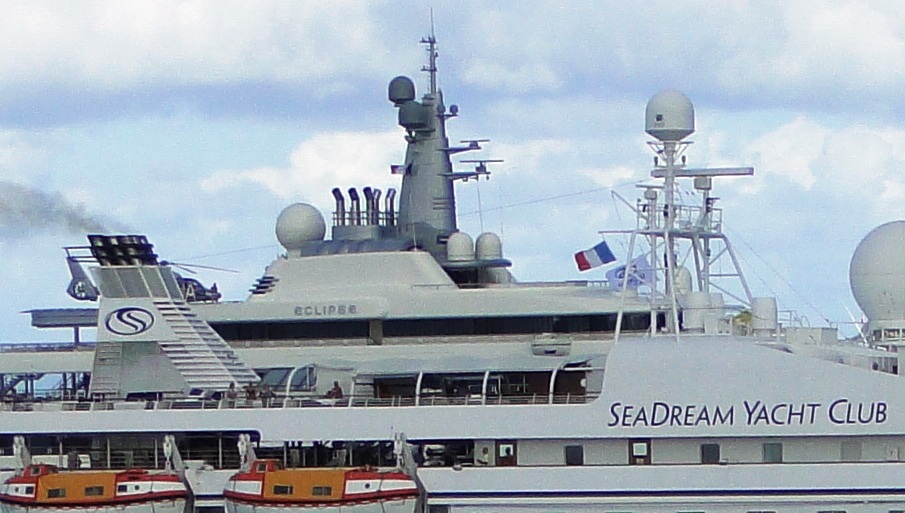 Above: in an accidental encounter that we were lucky enough to witness, the Sea Dream II "eclipses" the world's largest private yacht called the ECLIPSE in December 2012. L. Palmer photo.
CRUISE INFORMATION
Cruise insurance (see BASIC TOUR INCLUDES for provisions)
Ocean view staterooms featuring flat screen television, CD/DVD player, iPod docking station, mini bar, multiple head shower unit, Bvlgari bath amenities, personalized stationery, exclusive Belgian linens and plush terry bathrobes.
All gourmet meals served open seating in our Dining Salon or Al Fresco at the Outdoor Topside Restaurant
24 hour room service from the Small Bites menu
Gratuities
Open Bar with selected premium brands
Daily selection of wines to accompany lunch and dinner
Water toys from the yacht marina including wave runners, glass bottom kayaks, Hobie cats, snorkel gear, water skiing, wake boards, swim platform, banana boat and floating island.
Mountain bikes for shore side exploration
State of the art Golf Simulator with 30 signature golf courses
Activities with the crew (shore side casuals); bike, hike, kayak, and snorkel with one of the crew or go shopping with the Chef
Full library with over 1,200 hardback books
Extensive CD and DVD library
iPods loaded with a wide variety of music
Laptop computers for use while onboard
High powered binoculars on deck for your viewing pleasure
Pool and Jacuzzi
Sauna/steam room
Fitness Center with ocean view featuring treadmills, recumbent bikes with flat screen TVs and DVD players, free weights, daily Yoga and Tai Chi classes
Sea Dream Champagne and Caviar Splash in the Caribbean
Balinese Dream Beds with elevated view of the sea
Special movies shown both in the Main Salon and under the stars by the pool
Piano Bar
Wii
The following types of rooms are available on Sea Dream I. Note that there are no balconies on this ship and no inside cabins. All cabins have a view of the outside.
Stateroom Amenities
Refrigerator stocked with beer, soft drinks and water (no charge for any of this!)
An entertainment center with flat screen television, DVD/CD Player and iPod Docking Stations
A dataport for access to the internet; a laptop is available upon request (Internet charges are extra)
Marblelined bathroom with a multijet shower massage and Bvlgari bath amenities
The finest Belgian linens and a selection of pillows, blanket or down duvet
Sea Dream 100% Turkish cotton robes with slippers
Personalized yacht stationery, direct dial telephones, personal safe, individually controlled AC, make up mirror and hair dryer
24 hour suite Small Bites menu so you can spoil yourself at midnight or anytime
Cabin locations aboard ship are only on Decks 2, 3, and 4
CABIN TYPES
Before you make a selection why not go to the online 360 degree view internet site: http://www.seadream.com/the-yachts/360-view  Here you can place your mouse cursor over one of the images on the right side of the page, click on it, and view almost every aspect of the ship including seeing inside each cabin type.
Owner's Suite
Owners Suite
(1 ONLY): The Owners Suite is located on deck 3. It has 447 elegantly appointed square feet features a private master bedroom and bathroom suite with a soaking tub and a living and dining room area. There is a guest bath providing extra comfort for private entertaining.
Admiral Suite
Admiral Suite
(1 ONLY): The Admiral Suite, located on deck 4, provides a gracious 375 square feet. The Admiral Suite is casually elegant in design and features a separate living and dining area, master bedroom suite and 1 1/2 baths.
Deck 2, 3 and 4 stateroom
Stateroom
Yacht Club staterooms and they are all ocean view. There are 54 Yacht Club Staterooms measuring 195 square feet distributed on decks 2, 3 and 4. Note that some beds are twins and others are Queen size. When you request your cabin, please indicate which bed type that you want.  Rooms are the same size on all decks but on decks 3 and 4 there is one large square window in each cabin while those on deck 2 each have 2 round, slightly smaller windows.
BASIC TOUR ITINERARY
as of JANUARY 15, 2012. All times are shown in 24-hour time to minimize confusion. Times shown are those available as of this writing but will be updated in real time as sea and other conditions mandate.
| | | | | | |
| --- | --- | --- | --- | --- | --- |
| Day | Day of Week | Date (2013) | Location | Arrive | Depart |
| | | | | | |
| 1 | Monday | 28 October | SANTA CRUZ DE TENERIFE, CANARY ISLANDS | | 1500 |
| 2 | Tuesday | 29 October | DAKHLA, WESTERN SAHARA | 1100 | 1700 |
| 3 | Wednesday | 30 October | NOUADHIBOU, MAURITANIA | 1100 | 1700 |
| 4 | Thursday | 31 October | AT SEA | | |
| 5 | Friday | 1 November | SAO FILIPE, FOGO, CAPE VERDE ISLANDS | 1300 | 2200 |
| 6 | Saturday | 2 November | AT SEA | | |
| 7 | Sunday | 3 November | ECLIPSE POINT | 0800 | 1300 |
| 8 | Monday | 4 November | AT SEA | | |
| 9 | Tuesday | 5 November | AT SEA | | |
| 10 | Wednesday | 6 November | AT SEA | | |
| 11 | Thursday | 7 November | AT SEA | | |
| 12 | Friday | 8 November | AT SEA | | |
| 13 | Saturday | 9 November | BRIDGETOWN, BARBADOS | 0800 | |
(Some modifications may occur due to routing and schedule changes in the region prior to the time of the tour. Prices are those in effect as of the date above and may change due to currency fluctuations, fuel surcharges for ground transport caused by escalating oil prices or increases mandated by ground operators. RING OF FIRE EXPEDITIONS does its best to keep prices in line as far in advance as possible.
Oct 27 (Sunday): Santa Cruz de Tenerife, Canary Islands
As noted below, the cruise does not start/depart until tomorrow. However, to avoid the chances of flight delay or misconnect we strongly advise all passengers to arrive on this day to ensure you do not miss the ship departure!!  Hotel/transfers/meals costs are on your own.  Travel Leaders will provide information later on for a recommended group hotel.
Oct 28 (Monday): Santa Cruz de Tenerife, Canary Islands
Arrive on your own into Tenerife. Be sure that your arrival airport is Aeropuerto de Los Rodeos (airport code is TFN). Beautiful Tenerife is the largest of the seven Canary Islands, which form this Atlantic Ocean archipelago. The sun-kissed holiday hotspot welcomes millions of people every year who are looking for relaxation, adventure, good times and fantastic weather! From the golden sandy beaches in the south to the dramatic lunar landscape of Mount Teide National Park and everything in between, Tenerife has something for everyone. If you have time, explore the city before the cruise begins.
Check-in for the Sea Dream I begins today at 1200. You should ensure that your flight into Tenerife arrives no later than 0700 today but preferably at least one day before departure to avoid a possible misconnect. The Sea Dream I departs the dock at 1500.
The Tenerife Opera House is modeled after the Sydney Opera House.
Oct 29 (Tuesday): Dakhla, Western Sahara
Arrival into Dakhla around 1100.
A mosque in the city
Dakhla is a city in the western Sahara desert formerly known as Villa Cisneros when it was under Spanish rule. The main economic activity of the city is fishing and tourism. In recent years the town has become a centre for aquatic sports. It is known for its 50 kilometer lagoon where you can enjoy windsurfing, camel riding, and kitesurfing. The lagoon also offers a real opportunity to birdwatchers where they can observe a wide range of migrating birds. With a number of permanent camps providing a choice of accommodation and some new hotel developments underway, this spot is set to become a major playground for holidaymakers over the next decade. Visiting the Fortress of Villa Cisneros and Villa Cisneros Church are the key features in the town. Watersports and desert safaris are the things to do here.
An excursion to the famous White Dune is a popular attraction, time permitting. Sometimes flamingoes can be seen in the lagoon.
The great white sand dune outside of Dakhla
Depart at 1700 along the coast toward Mauritania.
Oct 30 (Wednesday): Nouadhibou, Mauritania
Today we arrive at 1000 in Mauritania's second city, Nouadhibou, is a strange frontier town that feels like the end of the world. In the market you can buy anything from chickens and goats to traditional herbal remedies and magic potions. But perhaps the weirdest objects of all on sale are meteorites, some of the rarest rocks on earth that land from space in the wastelands of the Sahara desert. People come here because they collect stones and rocks, according to one market trader. Nomads bring them from the desert. They say the stones have fallen from the sky. Foreigners had become very interested in these stones recently, knowing they were valuable.
The port of Nouadhibou is the final resting place of over 300 ships and hence the largest ship graveyard in the world. Unlike the arrival en masse of ships at Mallows Bay, here the number of craft has built up over time, as corrupt officials accepted bribes from boat owners to allow them to dump their vessels in the area.
A few of the wrecked ships at Nouadhibou
The major economic activity is fishing; however, the largest industry is processing iron ore that has transported by train from the interior mining towns of Zouerat and Fderik. These freight trains can be as much as 3 km long, reputedly the longest in the world. The railway also carries passengers and calls at Choum. On 30 June 1973, at the time of the second longest solar eclipse in 20th century, an aerobee rocket was launched at Nouadhibou for solar research.
From February 2006 onwards Nouadhibou has become the departure point for African migrants trying to reach the Canary Islands. This extremely dangerous route to reach the European Union has become popular as a result of increased emigration controls along the Moroccan coast and around the Spanish enclaves of Ceuta and Melilla in the second half of 2005.
Departure is at 1700.
Oct 31 (Thursday): At sea
A free day at sea. We will have the solar eclipse briefing where we will discuss the process and how to observe it safely. We will also simulate the duration of totality for al participants.
We provide a briefing on proper eclipse observing procedures prior to the big event and go through an eclipse simulation. Photo by L.Palmer.
Nov 1 (Friday): Sao Filipe, Fogo, Cape Verde Islands
After lunch we arrive at the island of Fogo around 1300. The island is located between the islands of Santiago and Brava. Practically the whole island is an active volcano that has been periodically active, last erupting in 1995.
The volcano of Fogo
The volcanic mother mountain itself is one of the world's most jaw-dropping wonders, with its caldera – a volcanic feature in which the mountain collapses into itself – all of 9km wide. The hike to the summit takes around five hours – a local guide can be hired and is essential – with a two hour return journey. It also has a breach on the eastern rim and the central cone is 100m higher than its surrounding wall. Lava from the volcano has even reached the eastern coast of the island.
Climbing in the crater of the Fogo caldera. Photo by B.Hulse.
The capital, Sao Filipe, which developed on a cliff edge, is a short distance from the island's airport and recognised for its pristine streets, classic colonial homes and pretty squares. The success of agriculture on the island over generations is evidenced in Sao Filipe's colonial homes, which were built by wealthy farm owners using materials imported from Portugal and Africa. Some of the hotels here are renovated buildings from that period. The coastal town also has Pico de Fogo as a stunning backdrop and its small museum is also well worth a visit.
On the North West of the island the scenery alters again, this time to coffee, banana and orange plantations. There is also much to enjoy about the town of Salina de Sao Jorge, which has a natural swimming pool protected by black reefs. Alternatively, you can relax and bask in the tropical temperatures on the island's black sandy beaches.
Depart Fogo at 2200.
Nov 2 (Saturday): At sea
A free day at sea.  Depending on ship motion, we plan to view the sun through solar filters and perhaps in the narrow band of the Hydrogen Alpha filter. This provides a unique perspective as in the photo below. This is an important emission line for solar observation, as the Sun's surface layer contains a high proportion of Hydrogen. The H-alpha filter allows safe observation of the entire solar disc, providing superb views of prominences, chromosphere and surface detail such as sunspots, plagues, flares, filaments and granulation.
The sun in hydrogen alpha light presents a powerful view unlike that seen through a normal telescope. Source: sungazer.net The sun in "white" light which is what it looks like when viewing through a typical telescope (though the solar filter you use may cause it to look white, green, yellow or orange).
Nov 3 (Sunday): ECLIPSE DAY
Sea Dream I will be positioned close to the center line of the eclipse path. The planned coordinates are 12 deg 24m North, 28 deg 49m W; these coordinates may be modified depending on weather conditions in the local area.
The partial phase of the solar eclipse begins shortly after sunrise. Sea Dream I will deploy stabilizers but be aware that there will still be rocking motion from the waves. It is best to use video and very short exposures when photographing the eclipse under ocean conditions.
TOTAL ECLIPSE OF THE SUN EVENT TIMES (for the planned sea position, but they serve as a guide and will be updated onboard):
7:49AM Sunrise
10:24:08GMT Start of Partial eclipse, elevation 34 deg, azimuth 118 deg.
11:48:53 Start of TOTAL ECLIPSE, elevation 51, azimuth 134 deg.
** EXPERIENCE 1 MINUTE 09 SECONDS OF TOTALITY **
11:50:02 End of TOTAL ECLIPSE
13:27:27 End of Partial eclipse, elevation 62, azimuth 174 deg.
The eclipse is so dramatic it attracts everyone onboard. Photo by P. Reiff.
Later today we will have a photo swap of eclipse images and a chance to share your own eclipse experience. The ship then begins its westward trek to Barbados through the lower latitudes of the Atlantic, where sea conditions are much calmer than the more northerly routes.
Tonight and during other evenings/mornings as the weather conditions and orbital geometry allow, we will attempt observation of the bright glints from the Iridium earth satellites. This activity has been a regular feature of RING OF FIRE EXPEDITIONS since 1999.
A time lapse exposure showing a brilliant glint from the main mission antenna of one of the Iridium communications satellites orbiting above the earth. Photo by B.Gimle. A bright satellite flies through the night sky. Tumbling motion is indicated by the alternating bright and dark sections of this time exposure. Such photos cannot be taken from a moving ship but this is shown to illustrate how a passing satellite might be seen against the star background as a moving point of light.
A bright satellite flies through the night sky. Tumbling motion is indicated by the alternating bright and dark sections of this time exposure. Such photos cannot be taken from a moving ship but this is shown to illustrate how a passing satellite might be seen against the star background as a moving point of light.
Nov 4 (Monday): At sea
Today is a sea day. At sunset, weather permitting, we will make our first attempt to view the Green Flash–a unique phenomenon created by the atmosphere and visible when the sea is calm and there no clouds on the horizon. Other attempts will occur at sunset on succeeding mornings and evenings during the trip.
The "Green Flash" was first photographed in 1965 by astronomer D. J. K. O'Connell of the Vatican Observatory in Italy. O'Connell's pictures proved the existence of the "green flash," which long had been held to be an optical illusion caused by retinal fatigue from looking at a setting red sun. In this photo the flash is just at the top of the image. Photo by M. Cogo.
Its companion is called the Blue Flash and is extremely rare to capture. However, given the next group of nights will be spent at sea, this will offer a chance to spot both of these atmospheric phenomena.
Tonight it may be possible to look for the Southern Taurid meteor shower which peaks around this date. While not numerous, Southern Taurids meteors are meteoroids originating from dust grains ejected from Comet 2P Encke. They are characterized by pumpkin-colored slow moving fireballs
You can go up to Deck 6 and watch the sky from there. In addition to deck chairs, there are 10 Balinese style recliners that can be used in the day time and then turn into beds at night, so it is possible to even schedule to sleep the entire night on deck if weather conditions are favorable.
Nov 5 (Tuesday): At sea
A free day at sea. Be on the lookout for possible whale or dolphin sightings as we cruise through the Atlantic.
Nov 6 (Wednesday): At sea
A free day at sea. After sunset we will have a moon viewing session on deck prior to departure to spot the early stage crescent moon.
he new crescent moon (old moon in the new moon's arms).
Nov 7 (Thursday): At sea
A free day at sea.
This will offer additional time to look at the sun to watch for sunspots and perhaps prominences using the Hydrogen Alpha telescope. The moon will be slowly getting more visible and perhaps we will be able to get some viewing in tonight.
The moon through binoculars. Craters through the telescope. Photo by M.Karrer
Nov 8 (Friday): At sea
A free day at sea.
In the days around a solar eclipse the remarkable stars of the southern sky can be seen and photographed.
It is important to note that for those not familiar with astro photgraphy all photos shown above were taken from land and not a moving ship. Although you can see stars, photography is not possible except for very short exposures unless the ship is docked.
Nov 9 (Saturday): Bridgetown, Barbados
Bridgetown harbor
Arrival into the Caribbean port of Bridgetown, Barbados at 0800. End of a great cruise!
**NOTE: Weather always plays a part in determining if any astronomical event can be seen and clear skies cannot be guaranteed.
PRICING
From USD$4,469. CRUISE PRICE ONLY per person double occupancy. Starting from Tenerife, Canary Islands and ending in Bridgetown, Barbados.
CABIN OCCUPANCY LIMITATIONS
Because of the small ship size and demand for the eclipse, we are forced to limit the number of persons in one cabin to no more than two. A single cabin rate is permitted (cost is twice the double per person rate). This is an ADULTS ONLY cruise due to its length and small ship environment.
See "BASIC TOUR PRICE INCLUDES".
Prices on specific cabin types are as follows. Note that this is a yacht and not a gigantic cruise ship. No cabins have balconies but all the cabins have an ocean view. Rooms are the same size on all decks but on decks 3 and 4 there is one large square window in each cabin while those on deck 2 each have 2 round, slightly smaller windows.
| PRICE Per Person Double Occupancy | CABIN TYPE |
| --- | --- |
| $13,499 | OWNER'S SUITE (1 only) |
| $10,399 | ADMIRAL SUITE (1 only) |
| $5,399 | YACHT CLUB STATEROOM DECK 4... (16 cabins) |
| $4,899 | YACHT CLUB STATEROOM DECK 3... (21 cabins) |
| $4,469 | YACHT CLUB STATEROOM DECK 2... (17 cabins) |
*THESE PRICES ARE SUBJECT TO CHANGE AT ANY TIME BASED ON FUEL SURCHARGES OR OTHER UNANTICIPATED EVENTS.
Cabin locations aboard ship are only on Decks 2, 3, and 4
Payment can be made by credit card, check, cash or wire transfer (see registration form at bottom for wire transfer details). Sorry, we do not accept PayPal. You may ask for a specific cabin number; however, cabin numbers will be assigned and confirmed after deposit is paid. Those who request a cabin earliest will be confirmed in that cabin. See payment schedule and cancellation fees below.
Because the ship is fully chartered by us, the above rates are available though Travel Leaders/Future Travel only and are subject to availability.
SHORE EXCURSIONS AND PRICES: We will not have this information available until 120 days prior to cruise sailing.
BASIC TOUR PRICE INCLUDES:
Accommodation as indicated in itinerary with private facilities
All meals while on board ship as provided by cruise payment
Trip insurance that covers trip cancellation, trip interruption, trip delay, missed connection, baggage delay, baggage and personal effects loss, medical expenses, medical evacuation, accidental death and dismemberment [see coverage details and limitations]. This applies ONLY to the cruise portion. Separate insurance is required for the air portion and any pre or post tours.
Beverages in the room refrigerator
Solar eclipse briefing and other short talks as scheduled
Observing sessions as scheduled
Observation of the total solar eclipse**
Caviar
CD players in every stateroom
DVD movies for viewing in your stateroom; over 200 titles
Golf Simulator with 30 courses
Laptop computer use
Mountain Bikes for use in select ports
Open Bar with select premium brands
State of the art fitness facility; treadmills, recumbent bikes
Stocked in-stateroom mini-bar with Mineral waters, beer & soft drinks
Water toys for use in select ports; kayaks, wave runner, water skis etc.
Welcome Champagne upon arrival
Wine poured with lunch and dinner
BASIC TOUR PRICE DOES NOT INCLUDE:
Passport fees
Ground transfers to/from the airport
Spa treatments
Fuel surcharges which could occur as a result of unexpected world oil price spikes prior to the cruise (note, our trips are priced 18 months to more than 2 years prior to the trip and because of things like currency fluctuations or other unusual events, it is always possible that unexpected price increases could be imposed from our vendors after our prices have been set and advertised.)
Certain ultra premium wines and spirits
Optional cost services provided aboard ship
Visas as required to visit countries involved if your nationality requires it
Airport departure taxes (if required)
Shore, pre and post tour excursions (Yacht Land Adventures)
Personal expenses and anything else not included in the 'tour includes' features list
PAYMENT SCHEDULE (per person)
Before JUNE 1, 2012……………………$2500. DEPOSIT
JUNE 1, 2012………………………………50% BALANCE DUE
MARCH 1, 2013………………………….100% PAYMENT DUE
CANCELLATION FEES (per person)
From time of booking………………….$850.00 per person double occupancy (or $1700.00 for single occupancy)
JUNE 1, 2012……………………………..100% OF PAYMENTS IS NON REFUNDABLE AFTER THIS DATE
If you want a roommate, we will attempt to provide one for you of the same gender provided there is enough time to do so. However, once you have committed to the trip, if this is not possible, you will be required to pay single supplement charges.
Clients should be aware that we cannot guarantee the weather for this astronomical event or any other.
ONLINE REGISTRATION
Please complete and submit the registration form below.
Please review and print our Terms & Conditions prior to starting your registration.
Don't see a registration form?  Refresh your page or use a different internet broswer. Some version will not support the registration form!
Credit Card Deposits
If you are paying by credit card, please submit our Credit Card Authorization Form
Dear Traveler: Here are the insurance coverages that we include in your trip.
Trip Cancellation 100% of insured Trip Cost
Trip Interruption 150% of insured Trip Cost*
Trip Interruption — Return Air Only $750*
Trip Delay (Maximum of $150 per day) $750
Missed Connection $250
Baggage & Personal Effects Loss $1,500
Baggage Delay $250
Medical Expense $25,000
Emergency Evacuation &
Repatriation of Remains $250,000
Accidental Death & Dismemberment $25,000
Optional Additional Coverages
The following will be included if elected and appropriate costs have been paid.
Optional Additional Medical Coverage:
Medical Expense ……………………………………………..Additional $25,000
The following non-insurance services are provided by Travel Guard.
Travel Medical Assistance………………………………………………..Included
Worldwide Travel Assistance…………………………………………….Included
LiveTravel® Emergency Assistance ………………………………………Included
Questions? For specific questions regarding insurance or to
purchase, contact your travel agent. Refer to product 007896 12/07
The following insurance plan is included in the cost of your trip.
Trip Cancellation and Interruption: pays for forfeited, non-refundable, unused payments or deposits if due to:
• Sickness, injury, or death of you, your Family Member, Traveling Companion, or Business Partner. Cancellation
due to an injury or Sickness of a Family Member must be because their condition is life-threatening,
or because the Family Member requires your or a Traveling Companion's care;
• Sickness, injury, hospitalization or death of the Insured's Host at Destination. A Physician must certify the
injury or Sickness.
• Financial Default of an airline, cruise line, or tour operator resulting in the complete cessation of services. This
coverage applies only if the Financial Default occurs more than 14 days after your coverage effective date;
• The Insured or Travel Companion is involuntarily terminated or laid off, provided that he or she has been
an active employee for the same employer for at least one year. Termination must occur following the
effective date of coverage. This provision is not applicable to temporary employment, independent
contractors or self-employed persons*;
• Cancel for Work Reasons if the Insured or a Traveling Companion*: 1) is required to work during his/her
scheduled Trip. He/she must provide proof of requirement to work, such as a notarized statement signed
by an officer of his/her employer; In the situation of self-employment, proof of self-employment and a notarized
statement confirming that the Insured is unable to travel due to his or her job obligations will be
required; 2) is directly involved in a merger, acquisition, government required product recall, or bankruptcy
proceedings and must be currently employed by the company that is involved in said event; 3) company is
deemed to be unsuitable for business due to burglary, or Natural Disaster and the Insured or Traveling
Companion is directly involved as a Key Employee of the disaster recovery team;
• Inclement weather causing delay or cancellation of travel;
• Strike resulting in the complete cessation of travel services at the point of departure or Destination;
• Your Primary Residence or Destination being made uninhabitable by vandalism, burglary, or Natural Disaster;
• You or your Traveling Companion being subpoenaed, required to serve on a jury, hijacked, or quarantined;
• You or your Traveling Companion being called into active military service or having leave revoked or being
reassigned;
• A Terrorist Incident in a City listed on your itinerary within 30 days of your scheduled arrival;
• Mechanical/equipment failure of a Common Carrier that occurs on a scheduled Trip and causes complete
cessation of the Insured's travel and results in a loss of 50% of the Insured's Trip length.*
Trip Delay: Reimburses for reasonable additional expenses until travel becomes possible if the Insured's Trip
is delayed 5 or more consecutive hours from reaching their intended Destination as a result of a cancellation
or delay of a regularly scheduled airline flight for one of the Unforeseen events listed: reasons listed under
Trip Cancellation and Interruption; Common Carrier delay; the Insured's or Traveling Companion's lost or
stolen passports, travel documents, or money; Natural Disaster; or the insured being involved in or delayed
due to a traffic accident while en route to a departure as substantiated by a police report.
Trip Interruption — Return Air Only: Reimburses the additional airline transportation expenses up to
the Maximum Benefit shown on the Schedule of Benefits incurred by you to reach the return destination
for Trip Interruptions due to one of the Unforeseen events listed above. However, the benefit payable
above will not exceed the cost of economy airfare (or same class of your original tickets) by the most
direct route, less any refunds paid or payable.
Missed Connection: Reimburses this benefit up to the Maximum Benefit shown on the Schedule of Benefits
if Inclement Weather or Common Carrier causes cancellation or a delay of regularly scheduled airline flights
for three or more hours to you point of departure.
Travel Insurance Coverage
Medical Expense: No daily limits or deductibles; pays for physician, hospital, ambulance services,
and prosthetic devices. Initial treatment must be received during trip; and pays for emergency dental
expenses during the trip.
Emergency Evacuation and Repatriation of Remains: Evacuation to nearest adequate medical
facility; medical escort; and transportation of remains upon death.
Accidental Death & Dismemberment: Covers death and loss of limb or eyesight within 365 days of
an accident.
Baggage & Personal Effects Loss: Can reimburse you if you Baggage is lost, stolen, or damaged while
on your Trip, subject to the Maximum Benefit.
Baggage Delay: Reimburses for the purchase of essential items if baggage is delayed or misdirected
for more than 12 hours.
Optional Additional Medical Coverage: $25,000 additional Medical Expense coverage can be
added.
Emergency Medical Coverage
Optional Coverages
Baggage Insurance Coverage
PRE-EXISTING MEDICAL CONDITIONS EXCLUSION:
The Insurer will not pay for any Loss or expense incurred as the result of an injury, Sickness, or
other condition of you, a Traveling Companion, Business Partner, or Family Member which, within
the 180-day period immediately preceding and including your coverage effective date: first
manifested itself or had symptoms which would have prompted a reasonable person to seek
diagnosis, care, or treatment; or, for which care or treatment was given or recommended by a
Physician; or required the taking of prescription drugs or medicines, unless the condition for
which the drugs or medicines are taken remains controlled without any change in the prescription
drugs or medicines.
PRE-EXISTING MEDICAL CONDITION EXCLUSION WAIVER:
The Insurer will waive the pre-existing medical condition exclusion if the following conditions
are met: 1. All Insured's are medically able to travel when plan cost is paid. 2. The amount of
coverage purchased equals all prepaid nonrefundable payments or deposits applicable to the
Trip at the time of purchase.
This is only a brief description of the coverage(s) available. The Policy will contain reductions,
limitations, exclusions and termination provisions. Insurance underwritten by National Union Fire
Insurance Company of Pittsburgh, Pa., with its principal place of business in New York, NY.
*Coverage not available to residents of Washington or Pennsylvania.
*Coverage for Trip Interruption & Trip Interruption-Return Air Only cannot be combined. Policy Number:
007896 12/07 12/06/10
Tour Terms & Conditions
Please read the following tour terms and conditions prior to reserving your trip:
RESERVATIONS AND PAYMENTS
Your reservation may be confirmed ONLY with SIGNED application form AND DEPOSIT. Tour space is limited and group flight reservations are accepted subject to availability at the time both RESERVATION FORM and PAYMENT(s) are received by FUTURE TRAVEL. For information call: (281) 480-1988 or (800) 929-9004. In order for us to keep your tour costs down we cannot return phone calls outside of the Houston area. If you cannot get through, please call back.
Payment schedule is as outlined on the tour registration form.
CANCELLATION AND REFUND
The operators of hotels, airlines, and our ground logistics suppliers have strict policies which we have to follow. Cancellations must be received in writing by Future Travel. Because our tours are mostly to remote areas and are of an unusual nature, neither hotels, airlines, or ground suppliers will refund money to us for unused or canceled space. Our prices are based on group minimums and any cancellation could otherwise cause a rate increase for others.
Cancellation penalties are as outlined on the tour registration form.
TOUR PRICES
Land and air prices are subject to change without notice due to unforeseen increases in the rates for hotel and meals, government taxes, currency fluctuations, and ground services. Prices are based on two persons sharing one room. There is additional cost for a single room (single supplement) or an extra person in the room if either of these features are available.
CHANGES
There will be a change fee of $75.00 per person charged for any change in travel arrangements made after ticketing and at least 30 days prior to departure. No changes will be allowed within 14 days of the departure date. These fees are subject to change.
SHARING ROOMS
If you are traveling by yourself but wish to share a room with someone else, we will attempt to match men with male roommates and women with female roommates, along with smoking/non-smoking preferences. If we cannot find a roommate for whatever reason we will advise you and have to charge you the single supplement fee. You may wish to look for a roommate from your local astronomical society.
ACCOMMODATIONS, MEALS AND SIGHTSEEING
Accommodations, meals and sightseeing will be provided as specified in the itinerary. Substitutions, if any, shall be of similar quality as outlined in the itinerary. Sightseeing will be provided by our tour host and is subject to change due to weather conditions, accessibility, border crossing limitations, and hours of operation. Sightseeing will be by motorcoach or best available transportation.
CHILDREN
In order to provide maximum convenience for all tour participants, we normally accept children if they are the age of 12 and older, although some tours are for adults only and are specified as such. Children must be accompanied and supervised by parents or guardians and are expected to display proper decorum while the group is together, especially at the observation site and on tour buses.
MEDICAL CERTIFICATION
Tour participants must attest that the are in good general health and capable of performing normal activities on this trip. They must further attest that: they are capable of caring for themselves during the expedition and will not impede the progress of the trip or enjoyment of other tour members; they must understand that this expedition may take them far from the nearest viable medical facility and that all expedition members must be self-sufficient. With that understanding they must certify that they have not been recently treated for, nor are aware of, any physical, mental or other condition or disability that would create a hazard to themselves or other members of the trip.
AIR TRANSPORT
Tour prices are quoted based on coach (economy) fares and are subject to change without notice. If air fares are increased, any such increase will be collected from tour members. We will attempt to use the lowest available airfare at time of ticketing.
SMOKING POLICY
SMOKING IS PROHIBITED ON OUR TOUR BUSES, OBSERVATION SITE AND IN BRIEFING/LECTURE ROOMS.
TRAVEL DOCUMENTS
United States citizens are required to have a valid PASSPORT (valid at least 6 months beyond the end of the tour). Citizens of other countries must make their nationalities known immediately to Future Travel and are responsible for obtaining proper documentation to enter the U.S. and any other countries where tour options are involved.
INSURANCE
Trip cancellation, baggage, health and accident insurance is strongly recommended and on some trips, mandatory. Insurance will be made available and may be purchased through Future Travel (if the law allows). In other cases tour members living outside the USA may have to obtain insurance in their home country. It is recommended that tour participants do not bring expensive jewelry or like possessions with them. Telescopes and observation equipment should be securely packed; insurance on expensive items is highly recommended. Future Travel or any of its representatives or contractors are not liable for loss/damage of any personal effects.
BAGGAGE HANDLING
Consult the TSA web site for restrictions on what is currently allowed to be carried onto aircraft. Also, due to constantly changing airline limitations, we advise all participants to verify baggage allowances directly with the airlines. The following guidelines may vary from trip to trip. Consult the individual tour inclusion to be sure these are in force. In general, from the USA you are allowed to check two standard sized suitcases per person, each weighing not more than 70 lbs and combined length, width, height of each adding up to less than 106 inches. But for flights in most other countries, only one checked bag weighing up to 44 lbs is permitted. Carry-on luggage must fit in the overhead compartment or under the seat. Excess baggage can be checked at the tour participant's own expense. Lost or damaged luggage while in transit is the sole responsibility of the carrier or traveler and subject to international and/or domestic governing regulations. All baggage of tour participant(s) is accepted on tour at participant(s) own risk. IF YOU ARE BRINGING A TELESCOPE OR ANY UNUSUAL EQUIPMENT, YOU MUST PROVIDE A LIST OF SUCH ITEMS TO FUTURE TRAVEL SO THAT WE CAN DETERMINE THEY ARE ALLOWABLE. WE WILL PROVIDE INSTRUCTIONS RELATED TO CUSTOMS FORMALITIES.
TRANSFERS
When transfers are included in the tour package between hotels and airports, transportation of participants and their baggage is provided only when participants travel with the rest of the group . If your schedule is different from this, private transfers are available at extra cost and must be requested in writing. Carry-on bags must be carried by tour participants and porterage is included AFTER passing through customs area upon arrival. Porterage is included for two (2) pieces of baggage only at hotels and airport unless otherwise stated in the individual itinerary inclusions. In some situations hotel porterage may not be possible. Be sure to consult the tour information to be sure.
TIPS AND TAXES
Tours include taxes for hotel accommodations and airfare. Departure taxes within foreign countries are NOT included since they vary widely. Each airport departure may require a separate departure tax which will have to be collected from each tour participant prior to boarding. Tips are NOT included for guides, tour personnel or drivers who render special services or who have done an outstanding job. This is left to each person's discretion.
CHANGES IN THE TOUR
Sometimes the airline or ground operator will be forced to change a portion of the tour dependent on equipment, weather or other factors beyond control of Future Travel. Alterations in the tour may also be necessary for other reasons. If this does occur, any additional expenses will have to be paid by tour participants and Future Travel will advise if/as soon as such expenses are anticipated.
Future Travel or its representatives cannot guarantee the observation of the advertised astronomical event(s). We make every effort to examine weather prospects prior to selecting the observation site including satellite photo studies.
WHAT IS NOT INCLUDED IN OUR TOUR
Cost of passports or visas, airport departure taxes outside the USA, excess baggage, meals and beverages not specified in the itinerary, baggage handling in the USA, tips, room service, liquor, phone calls, voluntary changes in flight(s), laundry, insurance costs, and items or services of a personal nature not specified in the tour itinerary.
CONSUMER DISCLOSURE NOTICE / DISCLAIMER
RESPONSIBILITY AND LIABILITY
Future Travel, Inc. and the Johnson Space Center Astronomical Society act only in the capacity of agent for the suppliers of the travel services named in the Itinerary or otherwise providing services or goods in connection with the Itinerary (the Suppliers), such as airlines, hotels and other lodging providers, cruise lines, camp operators, sight seeing trip operators, bus lines, car rental companies, driving services, restaurants, and providers of entertainment. We assume no responsibility for any personal injury, property damage, or other loss, accident, delay, inconvenience, or irregularity which may be occasioned either by reason (1) any act or omission of any of the Suppliers (2) any matter beyond our exclusive control including but not limited to a delay or cancellation of a flight that causes you to miss any portion of the Itinerary. We have no special knowledge regarding the financial condition of the Suppliers, unsafe conditions, health hazards, weather hazards, or climate extremes at locations to which you may travel.
For information concerning possible dangers at destinations, we recommend contacting the Travel Warnings Section of the U.S. State Department at (202) 647-5225 or www.travel.state.gov, and click on Travel Warnings.
For medical information, we recommend contacting the Centers for Disease Control at (877) FYI-TRIP or www.cdc.gov/travel. You assume full and complete responsibility for checking and verifying all passport and visa requirements of the destinations and for complying with all laws of the country in the Itinerary.
You are also responsible for respecting the authority and following the directions of the guide during the trip. We may exclude you from participating in all or any part of the trip if, in our sole discretion, your condition or behavior renders you unfit for the trip or unfit for continuation once the trip has begun. Unfitness may include, without limitation, any behavior that, regardless of its cause, is inappropriate or offensive or interferes with the delivery of our services, or may constitute a hazard or embarrassment. In such case, our liability shall be strictly limited to a refund of the recoverable cost of any unused portion of the trip. Should you decide not to participate in certain parts of the trip, no refunds will be made for those unused parts of the trip. You agree to indemnify and hold us harmless from and against any costs, damages, losses, or liabilities arising out of your actions or omissions.
The right is reserved to withdraw any tour announced by Future Travel or make substitutions and/or alterations as may be found desirable for the convenience of the parties and the proper carrying out of the tour. The tour price is per person and quoted in U.S. dollars. All rates are subject to change without prior notice due to unforeseen economic circumstances (including but not limited to airfare increases) or currency fluctuations. Any increase in cost as a result of change in either will be borne by tour participant.
Any dispute related to the trip shall be governed by Texas law without regard to conflict of laws principles. The federal or state courts in Harris County, Texas shall be the exclusive forum for any lawsuit related to the trip, and you consent to the personal jurisdiction by said courts. You agree to present any claims against us within 30 days after the trip ends and to file within one year of the incident, and you acknowledge that this expressly limits the applicable statute of limitations to one year. You agree to grant us (and third parties with whom we may engage in joint marketing) a worldwide, royalty-free, fully paid up license to use your photographic, video, or digital likeness solely for our promotional and/or commercial purposes. Facsimile transmission of any signed document shall be deemed delivery of an original. At our request, you shall promptly provide an original document as well. If there are any conflicts between these terms and conditions, the Reservation Form, and the Itinerary, these terms and conditions shall apply.